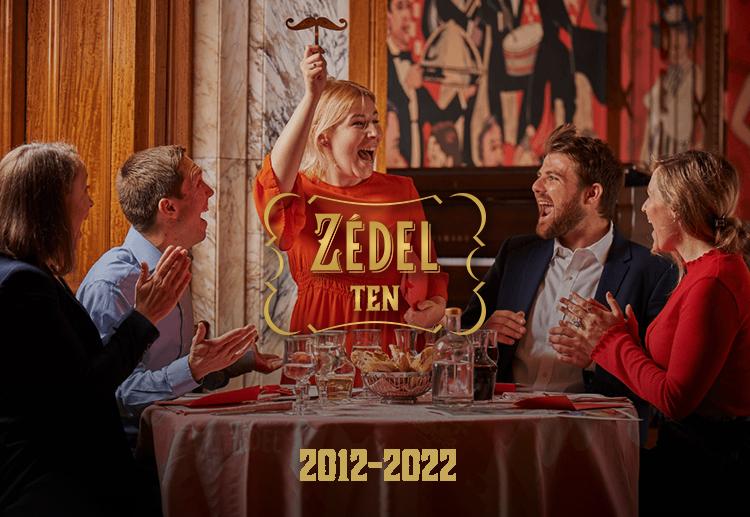 Dine with us from 16th to 25th June to celebrate Zédel's 10th birthday and be in with a chance of finding a golden moustache…
Please note this competition has now ended.
Mark the date in your diaries: Zédel turns ten on Saturday 25th June. And in true Zédel fashion, we have quite the soirée planned to celebrate our 'dix ans'.
10 years, 10 days, 10 prizes
Between the 16th and 25th June, each and every guest who dines with us will receive a red envelope, containing our one-of-a-kind Zédel Ten moustaches.
One golden moustache will be hidden in a lucky recipient's red envelope each day across the 10 days. Those who find one will win 10 complimentary meals to enjoy at Brasserie Zédel over the course of the next year.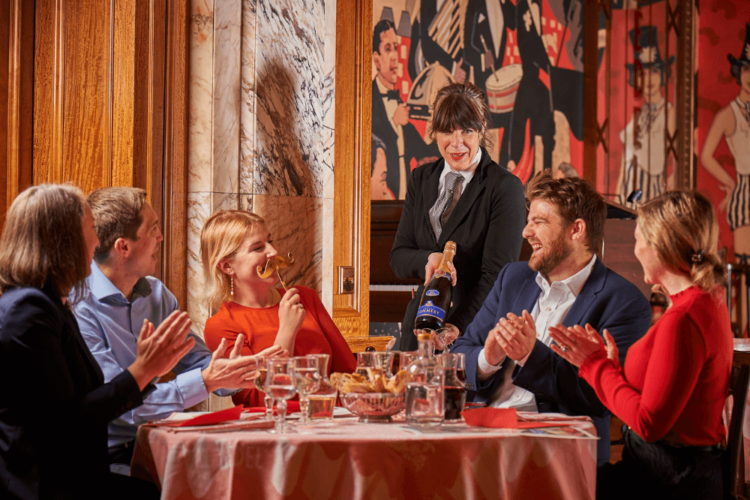 The prizes…
All 10 golden moustache holders will receive the same prize, entitling them to 10 complimentary meals at Brasserie Zédel over the next year.*
Rest assured, all guests will have an equal chance of winning, as the moustaches will be allocated at random. We recommend booking your table in advance to be in with a chance of winning. Bonne chance!
* See below for our full terms and conditions.
Can you take the best Zédelfie?
There will be also one more prize for whoever captures the best 'Zédelfie'. To enter this way, all you need to do is take a photo of you (and the rest of your party!) posing with your Zédel 10 moustaches.
Be sure to follow and tag us on social media (@brasseriezedel) and use both the #Zedelfie and #Zedel10 hashtags, so we can see your entry.
The winning entry will also win a complimentary meal for four with a cocktail on arrival and a bottle of wine to enjoy at Zédel.
Book your table
We recommend booking your table in advance online for the 10 days. Some tables will be available during evening for walk-ins, though please note there may be a wait for these as we anticipate demand being higher than usual.
The winners
Helen O'Reilly
Sarah Corbett
Libby Mills
Suzanne Noble
Muhammad Saloojee
Sofia Ragazzi
Cameron Crabtree
Leonard Liao-Briere
Lily Veronne
Christina D'Arcy
Terms and Conditions:
To take part in the competition, you must dine at Zédel between 16th and 25th June 2022.
Bookings are recommended, but there will be some capacity for walk-in diners on these dates; prizes will be allocated at random each day.
On each table there will be a red envelope for each guest, each one contains a Zédel Ten moustache – with one envelope per day containing a golden moustache.
Each Golden Moustache entitles each winner to 10 complimentary meals at Brasserie Zédel.
The complimentary meals are for the Menu Formule, which includes three courses and a glass of wine.
The meals are for 10 meals for two, but can be booked in various configurations (e.g. bookings for tables of 2, 3, 4, 5 or 6), totalling no more than 20 meals redeemed in total.
The winner of the best Zedelfie competition will win a complimentary meal for four at Brasserie Zédel.
The meals can only be booked in Brasserie Zédel itself, and not in ZL Café, Crazy Coqs or Bar Américain.
The winners must give their contact details to the Manager at Zédel on the evening – you will then be contacted by our Reservations team directly, who will manage your booking redemptions.
All complimentary meals must be booked and taken between 26th June 2022 and 25th June 2023; this date will not be extended for any  reason.
There is no cash equivalent for this prize.
The prize can only be redeemed at Brasserie Zédel and cannot be exchanged or used in any other The Wolseley Hospitality Group restaurant.
No employees of The Wolseley Hospitality Group – or friends and family of employees – are eligible for winning the prizes.