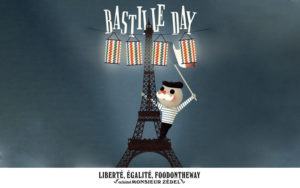 On the 14th July each year, our dining room is filled with customers celebrating Bastille Day, wearing Bretons and Berets and enjoying a complimentary 'Menu Formule'.

Although we are in different times, we are still embracing Bastille Day this year with all the usual vigour and joie de vivre, (but with physically distanced tables!)  As we did last year, to ensure the spirit of said 'Egalité' is observed, we are opening a ballot system to allocate reservations.
All those who are successful will join us for dinner on Tuesday 14th July wearing a striped Breton shirt and a Beret (moustaches optional, though encouraged!), for a complimentary 3-course dinner with wine. Reservations are available from 5.00-10.30pm.
Reservations for this event cannot be made over the phone or by email. In order to be as fair as possible, the only way to be in for a chance of a table this year is to enter into the ballot below.
Please note that due to the overwhelming number of entries we receive, only successful applicants will be contacted (by Thursday 9th July). You will then have 24-hours to confirm your table or it will be re-submitted into the ballot.
The ballot is now closed.
TERMS & CONDITIONS
Brasserie Zédel's Bastille Day Ballot will run from 10.00am on Monday 6th July and close at 4pm on Tuesday 7th July.
In any party, only those wearing a Breton shirt and beret will be eligible for a complimentary meal.
One ballot entry per person only.
A maximum table size of 6 people applies.
If successful, Zédel's reservation team will be in touch to confirm the exact time of your reservation subject to availability.
Only successful applicants will be contacted in order to confirm their table reservation and will have been contacted by Thursday 9th July via E Mail.
Please note that if you are successful, you will have 24 hours to confirm your table otherwise it will be re-submitted into the ballot.
The complimentary meal in this offer is for our Formule Menu, valued at £19.75, which includes 3-courses and a glass of wine and water.
This offer only applies to reservations made for dinner on Tuesday 14th July 2020.
No cash equivalent.
Reservations for this event cannot be made over the phone or by email. In order to be as fair as possible, the only way to be in for a chance of a table this year is to enter into the ballot.
To see how we will use the data you provide us, click here to see our Privacy Policy