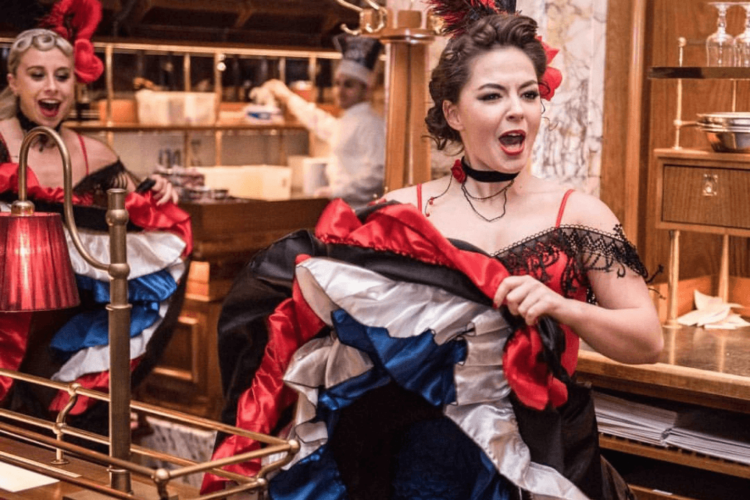 New Year's Eve, or le Réveillon de la Saint-Sylvestre as we say in France, deserves to be celebrated and where better to do so than with us at Brasserie Zédel for an evening of food, frivolity and a few surprises…
On 31st December from 9pm, Zédel will play host to an evening of extraordinary cabaret, all expertly compered by award-winning cabaret starlet Peter Groom as Marlene Dietrich. An array of charismatic and colourful characters will roam; close up magic, burlesque, juggling, a silhouette artist, an acrobat, jazz and of course, culminating with The Gatsby Girls performing the Can-Can at midnight, all interspersed with our swing and jazz house band all evening.
The Brasserie will be open as usual from early evening, and those wishing to enjoy a drink at the bar or indeed in Bar Américain before taking their seat for dinner are more than welcome to do so.
And so, set for an evening of light-hearted fun, we look forward to ringing in la nouvelle année in true Gallic style and would be thrilled for you to join us.
–
TO BOOK:
PRICING:
Our à la carte menu will be offered in the Brasserie as usual for diners to enjoy.
For guests joining us for dinner from 9pm onwards, there will be an additional £75 charge per person to cover the live entertainment you will experience throughout the evening which will be taken at the time of booking.
Diners joining us before 9pm will not be charged for entertainment.
There will not be a dress code on the evening but a little glamour is encouraged.
AND OVER IN CRAZY COQS:
Eve Ferret's will be starting the celebrations off in style from 7pm sharp with her New Year's Eve Soirée. Click here to book.
And to see us through to the New Year are the performers from The Black Cat's infamous Salon des Artistes to ring in the New Year in fine feline style at 10.30pm. Click here to book.
________________________________________
Terms and Conditions:
Bookings for dinner will commence from 5pm.
A New Year's Eve Entertainment charge of £75 per person is applicable to all bookings in the Brasserie from 9pm onwards. This fee will be payable upfront upon booking online. You will have the use of their table for the rest of the evening.
All reservations for 8pm and earlier are subject to a 2-hour time restriction. No Entertainment charge is required for these earlier bookings, but you will be asked to vacate your table.
There will be no 8.15pm-8.45pm sittings available on the evening.
Those with reservations from 9pm onwards – live entertainment in the Brasserie will begin around 9pm.
Dress code – we will not operate a dress code but a little glamour is encouraged.
Cancellation policy
Reservations from 9pm onwards:
If cancelled with less than 72 hours in advance, we will unfortunately not be able to refund the £75 per person charge.
Reservations before 9pm:
A cancellation fee of £15 will be charged if cancelled with less than 24 hours' notice.