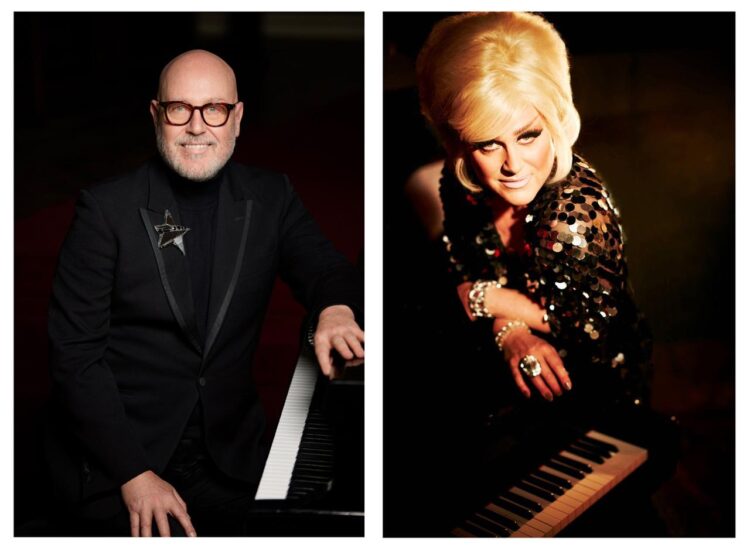 Ty Jeffries is the man behind the much-loved cabaret creation, tragicomic showgirl, Miss Hope Springs. A fixture at Crazy Coqs, he has been playing and singing his acclaimed original songs and telling hysterical stories from his character's fictional life to rave reviews and sold-out houses since 2012. He started his cabaret career at Langhan's Brasserie 44 years ago and has toured the USA, playing at both The Kennedy Centre and Wigmore Hall. In 2019, he won Broadway World 'Best Cabaret' at Edinburgh Fringe.
How long have you been performing at The Crazy Coqs?
It's nearly a dozen years now. I started out with a weekly Sunday Soirée which went pretty swiftly from a rather worrying audience of five to packed houses within a year. I've been told it's an unprecedented West End run. I'm catching up with The Mouse Trap!
Why is it such a special venue for you?
I first visited the building in a hard hat! Since then, it's become my creative home-from-home. I've been lucky enough to build up a wonderful following; they feel like family. Most memorably night? When Marc Almond, Fenella Fielding, Rula Lenska, Miriam Margolyes, Jarvis Cocker, Zandra Rhodes, Julian Clary, Tracie Bennett and Lady Helen Windsor were all in the house.
What is the inspiration behind Miss Hope Springs?
My mum's best friend was Diana Dors. I spent much of my childhood in Hollywood in the 1960s and Miss Springs is a soupçon of all those showbiz dames of a certain age who are not prepared to admit the passage of time or the departure of their glory days. That's quite a mood board.
You are a talented songwriter often compared to Bacharach and Sondheim. Where does the inspiration for your songs come from?
I started writing songs aged five, on an old Steinway that had been left in our potting shed. Later I studied at The Purcell School. My songs always tell a story. I'm inspired by Golden Age Hollywood, The Great American Songbook, French chansons, Berlin cabaret songs and of course Broadway!
Next year you'll be taking the make-up off and performing your songs as yourself. Tell us more.
As much as I love doing, it I would rather retire Miss Springs at the dizzying pinnacle of her erm, monumental career. Being on stage as myself is an entirely different experience. I feel much safer behind all the glamorous accoutrements of aging glamor-puss Hope. As my big, bad, bald self I feel rather naked. But from what people say, stripped back, the songs hit home more vividly, and for me it's all about the songs.
Any shows at The Crazy Coqs that you would recommend?
Eve Ferret. I've known her since she was one half of legendary Biddie & Eve at The Blitz Club in the late 1970s. Eve started at Crazy Coqs at the same time as me. We're both hard-core old-school British cabaret with our roots in the Music Hall tradition. I also love Lorna Luft when she's in town.