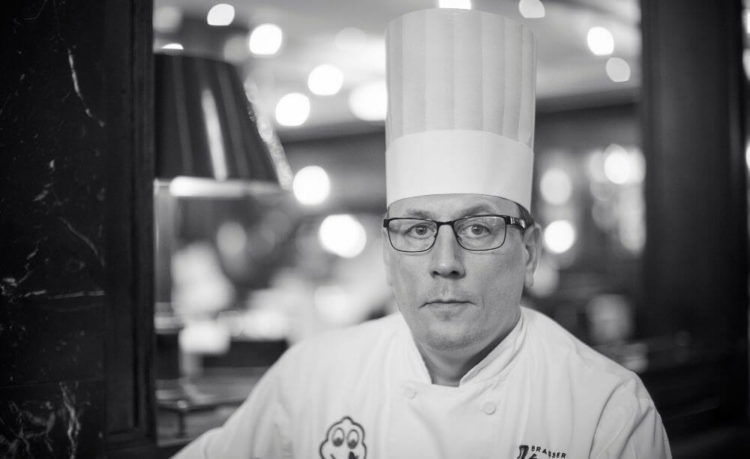 At the helm of the Zédel kitchen is our Head Chef, Charles Hilton. We thought you may like to know a little more about him, so we've gone 'Behind the Scenes' to speak with the man himself about his passion for French cuisine, the research that goes into devising a menu, the advice he would give to budding young chefs and more…
Born in London, Charles Hilton has spent most of his career in Scotland (it was a hotel in Troon – a small seaside town on the West coast, where Charles first found his calling to be a Chef, at the age of 17). Following a stint in Sydney, Charles returned to London 8 years ago and he has been at the helm of the Zédel kitchen in the role of Head Chef since September 2016.
What do you enjoy most about working at Zédel?
Cooking food in the classical French style. I might have trained in Scotland using Scottish produce, but despite that, the techniques we were taught, the sauces we made and the terminology we used – that was always with the French way of cooking in mind.
Is there much scope for innovation when devising the menu?
Yes, we keep the dishes in line with classical French cuisine, but the menu is always evolving. I do a lot of research with very old cookery books from the 60's, 70's & 80's, so we try to find old recipes that people might have forgotten about and we produce the dishes as they would have done at the time.
What's the biggest challenge your team face?
Maintaining consistency. At Zédel, we're feeding hundreds and hundreds of people, so we need to ensure that everyone gets a consistently outstanding meal. That's the main thing… also, making sure the produce that we buy in is of the best quality.
In your opinion, what makes Zédel so special?
I think it's a combination of things including the ambience, décor and attention to detail. It's the surprise customers get when they first walk through the small café, then come down the stairs and hear the French music, arrive into the open foyer, see the chandelier and then the gigantic doors leading them into the Brasserie. People just don't expect it.
It's also the service our customers receive, which is outstanding. For a restaurant or Brasserie of this size, we literally have a Front of House army to tend to all our customers' needs.
So, is the atmosphere and design of a restaurant as important as the food?
It's everything combined. It's not just about getting some nourishment; it's the whole experience of coming to Brasserie Zédel, and it's not going to break the bank doing it either.
How many covers do you do a day?
We can do 1500…!
What advice would you give to budding young chefs?
It's hard work! Really listen to what your Head Chefs and Sous Chefs are telling you. Do as much training as you possibly can – you'll be training in the kitchen but buy recipe books, read them, go to restaurants if you can afford it, put your hand up for any kind of training that's going – it's all knowledge. It is very, very difficult when you start out because you know nothing and you usually get into trouble quite a lot, but if you can keep your head down and listen, the rewards are there. Plus, you then have the opportunity to go anywhere in the world – everyone needs to eat, after all.