From the faces you might recognise on the restaurant floor or behind the bar, to the members of the team behind the scenes in the kitchen, read a little more below about some of the people you may see on a visit to Zédel.
We are always looking for new people to join the Corbin & King family, if you would like to view our current list of available roles, please click here.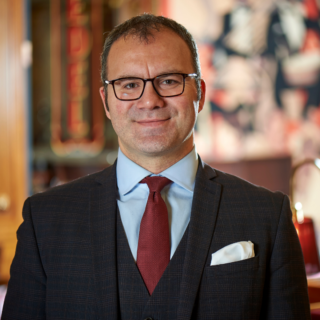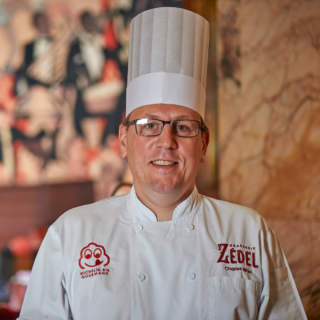 Michael Johnston, General Manager
Michael began his career path as Assistant Bar Manager and then Bars Manager for Sanderson and St Martins Lane Hotels. He later joined Haymarket Hotel as Bar Manager from 2009 to 2012 and then went on to work at Adam Street Members Club as Food & Beverage Manager. In 2013 Michael joined Corbin & King as Bar Manager at Brasserie Zédel and soon became a Floor Manager before taking on the Assistant General Manager's role in 2017. He left the fold briefly to move to Xu in September 2018, returning in 2019 at Colbert as General Manager before moving in December to Zédel as General Manager. He now oversees the brasserie, Bar Américain, Crazy Coqs and ZL Café.
Charles Hilton, Head Chef
Born in London, Charles has spent most of his career in Scotland (it was a hotel in Troon – a small seaside town on the West coast, where Charles first found his calling to be a Chef, at the age of 17). Following a stint in Sydney working for Tony Bilson at Bilson's, Charles returned to London nine years ago. He joined Corbin & King from the AMBA Hotel where he was Executive Head Chef for two years – responsible for a rebrand and the roll-out of new menus at the time. He has been at the helm of the Zédel kitchen in the role of Head Chef since September 2016 where he and the team have won and retained a BIB Gourmand award every year.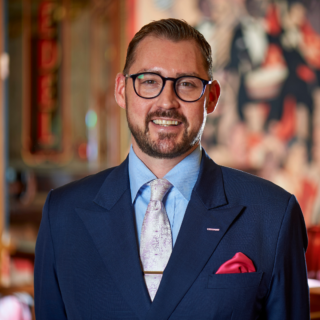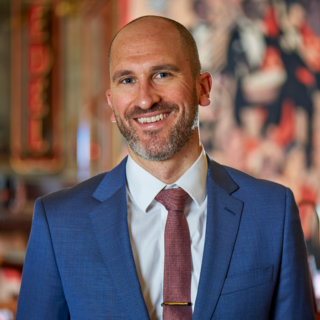 Brad Warnock, Front of House Manager
Brad started his hospitality career in London at The Wolseley, first as Chef de Rang and then becoming Assistant Maître d'hôtel. Brad also gained experience at Maze, Scott's and Chez Bruce as Reception Manager and Assistant Restaurant Manager as well as at Hix restaurant as Head Maître d'hôtel. In 2010 Brad joined La Petite Maison as Restaurant Manager in their Dubai location and then went onto La Serre Bistro & Boulangerie, part of EMAAR Hospitality Group, as Assistant General Manager. He then moved back to London in 2019 and joined Brasserie Zédel as Front of House Manager where he continues to manage the day-to-day reservations and the reception team.
Sean Kelly, Bars Manager & Director of Bars and Beverage for The Wolseley Hospitality Group
Prior to working in hospitality, Sean was a collegiate basketball coach in America and obtained a Master's degree from Queen's University, Belfast. It was whilst interning at the UN in New York that he started working in restaurants and the past 10 years have seen him move from there to Sydney and now to London. From Michelin-starred restaurants to wine bars, the constant throughout has been Sean's focus on developing cocktails, spirits and beer menus. Sean originally joined The Delaunay in October 2019 as Bar Manager before joining Brasserie Zédel as Bars Manager in December 2020. As Director of Bars and Beverage for, Sean oversees creative and commercial development for all our restaurants.