From the faces you might recognise on the restaurant floor or behind the bar, to the members of the team behind the scenes in the kitchen, read a little more below about some of the people you may see on a visit to Zédel.
We are always looking for new people to join The Wolseley Hospitality Group, if you would like to view our current list of available roles, visit https://harri.com/Thewolseleyhospitalitygroupcareers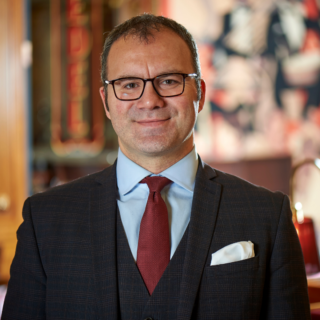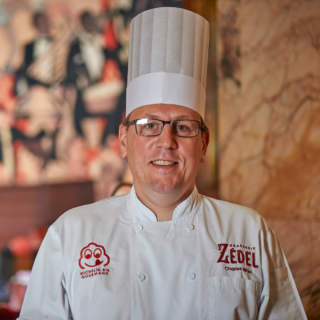 Michael Johnston, General Manager
Michael began his career path as Assistant Bar Manager and then Bars Manager for Sanderson and St Martins Lane Hotels. He later joined Haymarket Hotel as Bar Manager from 2009 to 2012 and then went on to work at Adam Street Members Club as Food & Beverage Manager. In 2013 Michael joined Corbin & King as Bar Manager at Brasserie Zédel and soon became a Floor Manager before taking on the Assistant General Manager's role in 2017. He left the fold briefly to move to Xu in September 2018, returning in 2019 at Colbert as General Manager before moving in December to Zédel as General Manager. He now oversees the brasserie, Bar Américain, Crazy Coqs and ZL Café.
Charles Hilton, Head Chef
Born in London, Charles has spent most of his career in Scotland (it was a hotel in Troon – a small seaside town on the West coast, where Charles first found his calling to be a Chef, at the age of 17). Following a stint in Sydney working for Tony Bilson at Bilson's, Charles returned to London nine years ago. He joined Corbin & King from the AMBA Hotel where he was Executive Head Chef for two years – responsible for a rebrand and the roll-out of new menus at the time. He has been at the helm of the Zédel kitchen in the role of Head Chef since September 2016 where he and the team have won and retained a BIB Gourmand award every year.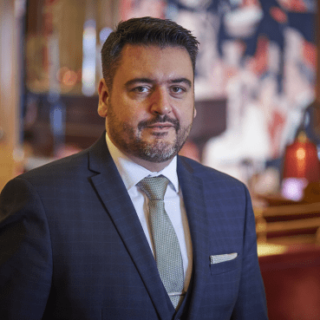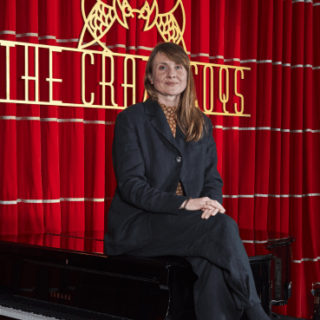 Nikolai Clerc – Assistant General Manager
Starting his career as a Waiter at Nodo in Madrid 16 years ago, before later getting a taste for the action behind the bar, Nikoli has more than 15 years' experience working in a variety of fast-paced restaurants and bars. Nikolai spent a further nine years working in Madrid, culminating as Bar Manager at StreetXO. It was that role that propelled him to move to London as Beverage Manager at the London opening of StreetXO. After a role as Bar Manager at Zetter Townhouse, he then moved to Duck and Waffle as Assistant General Manager in 2021, returning to his roots. In 2022, Nikolai joined The Wolseley Hospitality Group as Assistant General Manager at Brasserie Zédel.
Rebecca Little – Head of Crazy Coqs Programming
Rebecca started her career at Nightjar, where she was part of the opening team as a cocktail waitress in 2010, before working her way up to becoming General Manager. It was here that her experience in music programming opened her eyes to the world of live entertainment, and thus she befittingly made her move to Crazy Coqs as Manager in 2017. With the role giving her a further foot in the door in the world of entertainment, Rebecca booked a very successful late show called 'Round Midnight – a free gig after the ticketed events on a Friday and Saturday – whilst also maintaining her operational duties. In 2022, Rebecca naturally stepped into the role of Head of Programming at Crazy Coqs.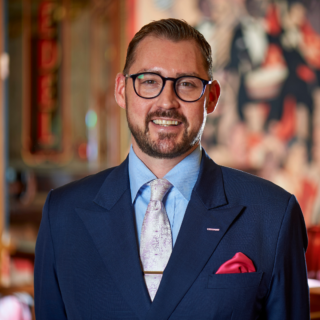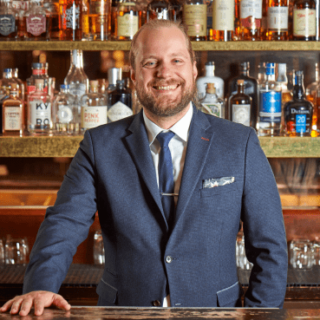 Brad Warnock, Front of House Manager
Brad started his hospitality career in London at The Wolseley, first as Chef de Rang and then becoming Assistant Maître d'hôtel. Brad also gained experience at Maze, Scott's and Chez Bruce as Reception Manager and Assistant Restaurant Manager as well as at Hix restaurant as Head Maître d'hôtel. In 2010 Brad joined La Petite Maison as Restaurant Manager in their Dubai location and then went onto La Serre Bistro & Boulangerie, part of EMAAR Hospitality Group, as Assistant General Manager. He then moved back to London in 2019 and joined Brasserie Zédel as Front of House Manager where he continues to manage the day-to-day reservations and the reception team.
Minas Kotoulas – Head of Bars
It was while studying at university in Greece, at age 19, that Minas first fell in love with bartending. Feeling particularly attracted that the sense of community fostered between bartenders and the constant sharing of stories and advice, Minas has held bartending roles ever since, both in Greece and later in London in venues such as Zuma. Five years ago he joined the team at Bar Américain, starting as a bartender before working his way up to lead our full bar operation at Zédel, which also includes our live music and cabaret venue Crazy Coqs.