Hailing from New York State, Sean Kelly entered into the world of hospitality via academia, with his first act beginning in New York City itself. Now, he's running the show here at Bar Américain. We sat down with him to find out a little about what inspires him...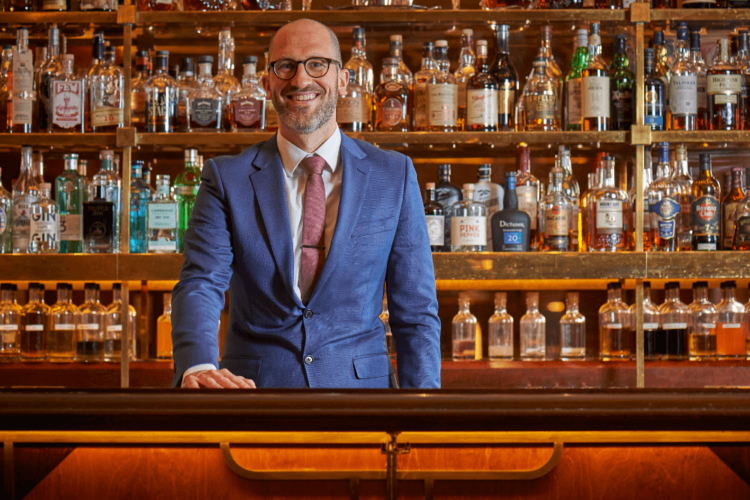 Tell us a little bit about yourself…
I'm from New York State and I moved to the UK back in 2009 to do a Master's at Queen's University in Belfast. After this I moved to New York City for the first time, to intern at the United Nations – and it was here I started working in a bar.
How did you get into mixology?
Some might say I had a late entry into hospitality, but I fell in love with it and have never looked back since, working in some of the best bars in NYC, Sydney and now London over the past decade.
I've been fortunate to have worked in very different venues so far in my career, from 5 star hotels to natural wine bars, the best restaurant group in NYC – and now the best in London, with Corbin & King.
Where do you find inspiration for new cocktail recipes? Talk us through your approach to designing the perfect bar menu…
Firstly, I would say mixology is more of a science , whereas the artistry lies in menu design itself… you can have an amazing drink, but if it's not right for the menu or the setting, it will never work.
The vast majority of cocktails are classically inspired, building on familiar ratios and flavour profiles – but with more modern techniques – we can then play around with those ratios and flavours to create drinks that are right for us. For example, at Zédel, we use a lot of French flavours to marry our drinks together, which also fits with the food offering.
Bar Américain is taking part in London Cocktail Week (or month!) this October, how did you decide on the new drinks you've created?
We wanted to take classics and make them contemporary – and we've come up with three very different drinks… Like with the 'Américain in Paris' menu, which was on for a few months, this is a fun opportunity for the team to get creative and show off their skills.
The Whiskey Mac certainly has an interesting back story, have you strayed far from the original recipe?
We haven't strayed too far, but we have given it an update. Instead of the traditional ginger wine, we have created our own ginger-infused syrup which I feel makes for a more vibrant and delicious twist on the classic. We're also using a very high quality Whisky, which is essential to make a good drink…
The "low and no" trend seems here to stay – and you've created one of each for the London Cocktail Week menu. What would you say makes for a good low or no cocktail?
Alcohol is a flavour carrier, so when you reduce or eliminate it you have to find other ways to add flavour. The lazy way of doing this is to add more sugar, whereas a more interesting way is to look to lower ABV drinks, such as Vermouths and Sherries – both add complexity and depth of flavour – as well as the array of bitters and high-quality mixers now on the market. This is really enabling much more creativity and quality in the low and no market.
Are there any other trends you're keeping an eye on – and will you be incorporating these into the drinks menu in future?
I would say the current trend is towards simplicity, and finding the nuance in that.
For a long time, more was more in the cocktail world, with inexplicable garnishes and outlandish presentation. Whereas now, we're seeing a lot of people preferring longer drinks – lux gin and tonics, for example – and other carbonated, light and vibrant options.
Generally, a lot of people are drinking less, but better; high quality ingredients and interesting, seasonal flavour combinations play well into this.
If you could only drink one cocktail for the rest of your life, what would it be and why?
It would have to be a Manhattan. There's a nostalgia component to this reasoning; my grandfather used to make them at big family gatherings, particularly at Christmas, so there's an element of sentimentality attached to the Manhattan for me.
What I also like about this drink is its malleability. The basic recipe and ratios can be played with and adapted, experimenting with different whiskeys and vermouths to create your own twist.
When you're not at Bar Américain where are your favourite spots to enjoy a drink in London?
Overall, I would have to say The Artesian – it's a classic, yet manages to be contemporary at the same time. Another bar well worth a visit is Tayer & Elementary, they're really pushing the scientific element of mixology forward and having fun while doing it.
And finally, what's been your highlight so far working at Bar Américain?
I can't single out one thing in particular, but if I had to give an answer then it would be the people; both the team and the clientele.
With the team, it feels like family – it's a diverse, egalitarian and friendly group. And as for the clientele, they're fun, friendly and great to look after.
Read more about Bar Américain, our little slice of Art Deco opulence in the heart of Piccadilly.